Online Singing Lessons
with Matt Thompson
Available Anywhere In The World!

Welcome to Matt Thompson's Virtual / Online Singing Lessons!
Are you ready to take your singing skills to the next level? Look no further! I'm Matt Thompson, your dedicated singing teacher, and I'm here to help you unlock your true vocal potential through one-to-one online virtual singing lessons.
About Me:
With over 2 decades of experience as a professional vocal coach / singing teacher, I've had the privilege of working with aspiring singers of all levels. From beginners just discovering their voice to experienced performers looking to refine their technique, I've seen it all. My goal is to empower you with the knowledge, skills, and confidence to become the best singer you can be.
What Sets My Virtual Singing Lessons Apart: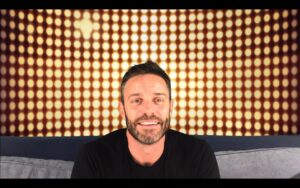 1. Personalised Attention: As your dedicated singing teacher, I believe in the power of personalised attention. In our one-to-one virtual lessons, I'll take the time to understand your unique voice, strengths, and areas for improvement. Together, we'll create a customised lesson plan tailored to your specific goals and aspirations.
2. Comprehensive Vocal Training: Singing is more than just hitting the right notes. It's about mastering breath control, developing vocal technique, and expressing emotions through your voice. In our virtual lessons, we'll cover a wide range of topics, including vocal warm-ups, proper posture, pitch accuracy, vocal range expansion, and performance techniques, ensuring that you have a well-rounded foundation.
3. Interactive and Engaging Sessions: Matt's virtual lessons are anything but impersonal. Through high-quality video conferencing, we'll connect face-to-face, allowing for real-time feedback, demonstration, and guidance. You'll receive constructive critiques, vocal exercises, and personalised tips to help you grow as a singer, all while creating an engaging and interactive learning environment.
4. Flexibility and Convenience: Life can be hectic, but that shouldn't stop you from pursuing your passion for singing. With my virtual lessons, you have the flexibility to schedule sessions at a time that works best for you. No need to worry about commuting or conflicting schedules. You can learn and practice singing from the comfort and convenience of your own home.
5. Supportive and Encouraging Atmosphere: I believe that a positive and supportive learning environment is crucial for growth. In our lessons, you'll find a safe space where you can explore and experiment with your voice. I'll be there to provide guidance, support, and encouragement every step of the way. We'll celebrate your achievements together and work through any challenges that come your way.
Let's Do This!
Are you ready to embark on this incredible vocal journey with me? Whether you dream of performing on stage, recording your own music, or simply gaining confidence in your singing abilities, I'm here to help you succeed. Let's harness the power of technology and unleash your voice like never before.
Don't wait any longer to pursue your passion for singing. Join my online singing lessons today and let's create beautiful music together. I can't wait to witness the incredible progress you'll make and the joy you'll experience as you discover the full potential of your voice.
Take the first step towards vocal excellence. Schedule your one-to-one online virtual singing lessons with me, Matt Thompson, and let's make your singing dreams a reality. Together, we'll create a harmony that will resonate with the world.
Genres range from Rock, Pop, Blues, Jazz, Soul, Funk, Country, Gospel and more.
Requirements for online singing lessons
Skype / FaceTime / Messenger / WhatsApp / Zoom
A good broadband / 4g or 5g connection
Your voice
You will be provided with all vocal scales.  Backing tracks are streamed from YouTube, Spotify or any other streaming service.  Piano accompaniments will be emailed to you before or during the lesson.
Online Singing Lesson Prices
Lessons are available Monday to Friday – 10am – 8pm and Saturday / Sunday mornings
Please complete an enquiry form for an up-to-date price list or for any other enquiry you may have.
Zoom Singing Lessons | Skype singing lessons | Online singing lessons | FaceTime singing lessons | WhatsApp Singing Lessons | Virtual Singing Lessons