Coming Up Soon!
| | | |
| --- | --- | --- |
| Sun, 16th Feb | Sun, 16th Feb | Thursdays |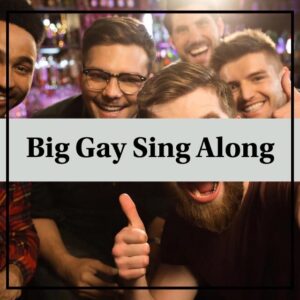 The Big Gay Sing Along
Come and join us for this fantastic group singalong session. De-stress after a busy week: unwind and start the weekend with an uplifting and exhilarating experience.
The Big Gay Sing Along will run every other Friday: unless otherwise advertised.  Songs chosen will range from rock to pop, jazz to soul: You'll even pick up some vocal technique along the way. Come and hang out with other like-minded people.
You don't need to be an amazing singer to join this group, just have a love for music and passion for singing.
HOW IT WORKS
We start each session with a vocal warm-up, then straight to singing.
The first song will be a piece played on piano, we'll work as a group on simple harmonies: this isn't as scary as it sounds; it's a great way to break the ice. We continue singing well known classics for the rest of the session.
Matt's aim is to grow this group as big as possible. The more voices singing in unison the more exhilarating the experience!
Bring your own alcohol or soft drink!
Venue
7a Camden Terrace
London
NW1 9BP